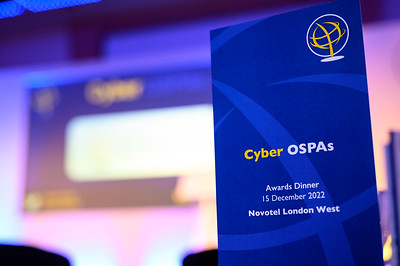 The winners of the second Cyber Outstanding Security Performance Awards (Cyber OSPAs) were announced on Thursday 15th December at a gala awards dinner held at Novotel London West.
Only in its second year, the Cyber OSPAs have already been endorsed by leading cyber security organisations worldwide who have recognised the unique ethos of these awards.
The awards are founded on the principles of independence and transparency, giving them a credibility that is second to none.
Winners walked away with trophies in 11 categories, each of which had been rigorously judged by a panel of cyber security experts who were independently selected by our partner associations and groups.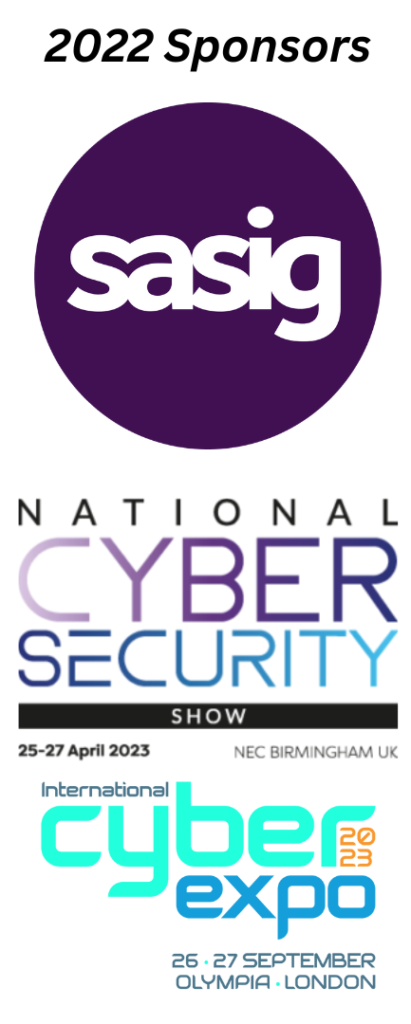 Professor Martin Gill founder of the Cyber OSPAs hosted the awards ceremony with assistance from the judging panel.
In his opening address, Martin noted that all too often the cyber security sector act under the radar and yet plays a crucial role. The quality of entries and the high profile awards ceremony has helped to shine a spotlight on the outstanding performance of the very best working across sectors in different areas of cyber security.
The panel of judges were nominated by the leading cyber security associations and special interest groups from around the world – all of whom marked to a published ethics policy – had no easy task in reviewing the many nominations and selecting the winners. Entries were received from countries as diverse as Australia, Germany, India, Ireland, Norway, Romania, USA and the UK.
The awards were presented in 11 categories to a deserving array of organisations and individuals. Click the button below for a list of this year's finalists.
The 2022 winners of the Cyber OSPAs are:
Outstanding Chief Information Security Officer
Dawn Marie Hutchinson – BAT
The judges felt that Dawn showed strong industry engagement, demonstrated wider reach and influence in the industry. They said that the transformation of security culture towards 'yes', is great step forward in large organisation. Read More.
Outstanding Cyber Security Professional
Darren Argyle – Standard Chartered Bank
The judges commented that Darren's commitment to engaging with and educating the SCB board, leadership team and staff (including a focus on diversity), in a vernacular that they understand, is commendable. Read More.
Outstanding Cyber Security Team
Security Policy Team – Lloyds Banking Group
The Security Policy Team has set itself apart through building close working relationships with the wider Security Function and Business as a whole. Judges said the team showed great diversity and had exciting approaches to long-term solutions. Read More.
Outstanding Cyber Security Consultant
Antoinette King – Credo Cyber Consulting LLC
Judges felt that Antoinette has engaged with a number of key stakeholders, exercising leadership and adding societal value. She has also had significant and dynamic experience across many security industry sectors and had raised awareness with young people and the vulnerable which makes her stand out from the others. Read More.
Outstanding Customer Service Initiative
HSBC Fraud and Cyber Awareness app – HSBC and Martyn Pointer
Judges commented that making their educational app available to HSBC customers and non-customers is commendable, inspired and the initiative is innovative and shows a very positive effect on their customers. They said it is a great resource for individuals and small businesses to reduce financial fraud which is a huge global threat. Read More.
2022 Supporting Associations
ACS
ANSSI
CSA
Crest
Cyber Security Association of India
Cybersecurity Unity
Chartered Institute of Information Security
Cyber Security Association of Maryland
CyAN
IASME Consortium
ISACA – Central UK Chapter
ISACA – London Chapter
ISSA
IOT Security Foundation
Institution of Analysts & Programmers
National Cybersecurity Alliance
Romanian Association for Information Security Assurance
Sasig
TechUK
The Security Institute
Worshipful Company of Information Technologists
Outstanding Cyber Security Partnership
U.S. Embassy in Romania and Romanian Association for Information Security Assurance
The partnership between the U.S. Embassy in Romania and the Romanian Association for Information Security Assurance (RAISA) started as an initiative to strengthen cyber capacity and cybersecurity education. Judges felt that they had a strong focus on skills development and education and thus a good preparation for future challenges. Read More.
Outstanding Police/Law Enforcement Initiative
Social Media: A Parent's Guide – Police Scotland
Judges commented that their collaborative approach to working with public, private and third sectors along with their commitment to engaging with all sectors of their communities (and addressing the imperatives, concerns and needs of community members of all ages) is commendable – as is their focus on the issues surrounding risk across the social media spectrum. Their use of interactive story-telling and gamification is both potent and powerful. Read More.
Outstanding Cyber Security Training/Awareness Initiative
HSBC Fraud and Cyber Awareness app – HSBC and Martyn Pointer
The HSBC Fraud and Cyber Awareness app which provides free education on fraud and cyber trends was originally Martyn's idea when he joined HSBC. Judges commented that making their educational app available to HSBC customers and non-customers is commendable, inspired and the initiative is innovative and shows a very positive effect on their customers. Read More.
Outstanding Young Cyber Security Professional
Katie Shanahan – Crossword Cybersecurity
Katie has founded a faculty of young professionals to share expertise and experience within the Banking and Financial Sector across a wide spectrum of topics including Cyber Security and Governance, Risk, and Regulation. Judges felt that Katie showed great community engagement and applauded the faculty of young professionals she had founded. Read More.
Outstanding New Cyber Security Product
Halo 2022.1 – Hypori
Users of Hypori Halo are instantly productive because there is no training required. Organizations achieve zero-trust security at the edge, without intruding on their employees' or partners' privacy, and immediately reduce expenses by implementing Hypori Halo. Judges applauded the excellent feedback from key stakeholders and said it was a highly innovative system with great potential. Read More.
Lifetime Achievement
Barry Coatesworth
Judges commented that Barry's outstanding achievements throughout a distinguished career, as well as the breadth and depth of Barry's experience, expertise, endeavours and adventures. They were seen as fascinating – equally interesting and inspiring. They went on to say that he is a truly dedicated and passionate person who has worked towards improving cyber security all his life in a generous and ethical manner. Barry has demonstrated a significant dedication and mastery to the field of cybersecurity, and has clearly influenced national security, innovation, and the next generation of cyber leaders in distinct ways. Read More.
Full summaries of all the 2022 winners can be viewed by pressing the button below
Winner's Comments:
We are delighted to win one of the Cyber Outstanding Security Performance Awards in 2022, mainly because the competition was intense, with valuable initiatives and projects submitted. Our partnership brought together law enforcement, public institutions, international private companies, universities, and NGOs, all working together to raise awareness, embody the cybersecurity culture, and protect people and institutions from cybercrimes. This award gives us the confidence to work harder in this field to contribute to a safer and more secure cyberspace. Together we are stronger!
Ioan-Cosmin MIHAI, Vice President – RAISA
The event organiser would like to thank all those who helped to make the 2022 Cyber OSPAs a success, including global industry associations, special interest groups and their representative judges; category sponsors SASIG, National Cyber Security Show, International Cyber Expo; and this year's media partners, Digital Forensics Magazine, The Investigator and My Security Media.
Supporting Associations